We rescued a baby hummingbird yesterday!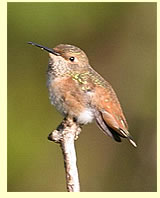 This is what it looked like. The photo is a female, and ours was a male, but it was a juvenile, so it wasn't gaudy yet. Sweetie found it when he took Tink out for her walk. It was on the sidewalk, and it could only get about a foot into the air before having to land again. We took a piece of really light fabric and gently placed it over the little birdy, then very carefully scooped it up. It wasn't hurt or anything, it was just too young to be out of the nest. The nest is way, way up in a high tree, so there was no way to get it back there. It turns out that hummingbirds are protected under federal law (who knew?), so you're not really allowed to try to keep one. Which is good, because you'd totally kill it anyway.
Hummingbirds, I want you to know, are jerks. We have this huge feeder, and we keep it full, and there are no fewer than four feeding stations where they could all sit together in amity, but do they? No. No, they don't. We've had the feeder for a year, and only once have we every seen four birds on it. Most often, there will be one bird, and then another bird will pull a kamikaze maneuver, and then they fly off fighting. No camaradarie, and no common sense.
We ended up taking it to the
Los Angeles Hummingbird Rescue
in West Hollywood. Boy, were those people nice. Terry and Frank have a whole setup in their home, with an incubator and lots of different cages for various birds, and a lovely aviary. It was almost nine o'clock when I got there, but they showed me all around and talked to me about the birds and everything. They said that little Sweetie (they named it after Sweetie because it was a boy and Sweetie found it--they would have called it Bitey if it had been a girl) was an Allen's Hummingbird, like this one:
I'd have taken pictures, but I kinda destroyed my camera. See, I was at Fair and someone (possibly myself) got drunk and spilled beer on it. It might have been okay--the camera's manual says that if it gets wet, to just let it dry out for a day or so--but because I was
really
drunk, I kinda forgot that I wasn't supposed to turn it on, and I guess I fried it. So.